Interiors with Interior Remodeling Pro – Tyler Kallenbach
The moment I met him; I knew I liked him. His down-to-earth personality immediately put me at ease. I was trying to make the first impression a good one but I was undoubtedly trying too hard. I knew it. He probably knew it too, but he never made me feel uncomfortable. Tyler Kallenbach is our Interior Expert at TrueSon Exteriors | Interiors, Columbia MO. When I was hired, I had the understanding that I could potentially be working closely with Tyler - that's why I wanted that first impression to be a good one. A few of his Chris Farleyesque type chuckles, and a display of his quick-witted sense-of-humor and I felt like I had known Tyler for a while. That's just one of many qualities that make Tyler such an asset, and I'm not just talking about his work here with TrueSon Exteriors | Interiors. I'm talking about his role in the community he holds dear, Hallsville, Missouri.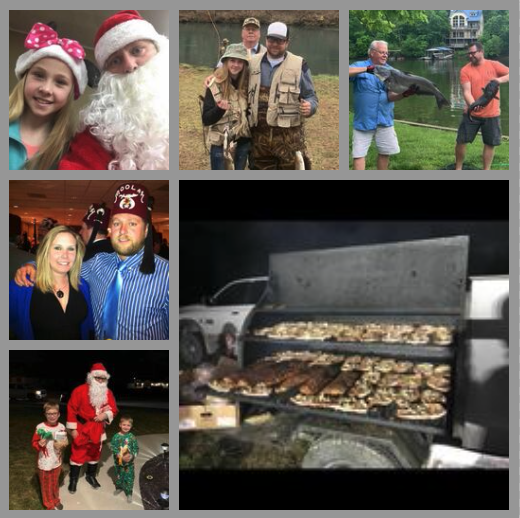 Building His Community
Tyler is part of a 20-person crew. Each with their own area of expertise. Some are builders, some are drivers, and there's a dispatch team. No, I'm still not talking about his work at TrueSon Exteriors | Interiors, Columbia MO. I'm talking about a Christmas event that Tyler helps orchestrate every year in Hallsville, MO. It takes a big team of elves to deliver Christmas, ask any Santa out there! Tyler tells me his team of elves deliver a nice care package to close to 300 Hallsville homes every year for Christmas. The care package includes some food, some fun and a hand-made stuffed animal from another great Hallsville Samaritan that works year-round to create these incredible gifts. A Hallsville family must simply leave their porch light on to signal Santa and his elves to deliver. It is no surprise to me that Tyler is one of six Santas spreading a little extra holiday cheer to his fellow neighbors. Tyler is a member of the Hallsville Masonic Lodge and he helps lead this operation every year. But that's not all Tyler does for his community.
"I really like that people feel like they can call me when there's something going on and they, or someone they know, might need some help. People don't even necessarily have to come to me directly anymore. People in Hallsville fill me in when someone is in need, and I love that! I just want to help when we can." – Tyler Kallenbach
Tyler and two of his close friends have what they call "the fund". This is a small savings account that they started, which they utilize to fuel the next philanthropic event. The three of his friends often smoke or grill meats to raise money for folks who are in need within their community. When the next call comes in, Tyler and his buddies organize an event that includes the pre-sale of smoked or grilled meats as a fundraiser. During the Holiday season, they also do a big fundraiser for 3-4 families in need to ensure those families have a special Christmas. He will never say it, but every town could use a few Tylers. I think that's why we're so lucky to have this guy on our team at TrueSon Exteriors | Interiors, Columbia Mo.
The TrueSon Values Were a Match!
Some of Tyler's best personality traits carry over to TrueSon Exteriors | Interiors, Columbia MO. At the root of it all, Tyler likes to help people. "I like the fact that we can take someone's house that they buy and turn it into the home they want to live in. I like turning their vision exactly into what they want - turning their house into a home." Tyler, tells me. When it comes to experience in remodeling, Tyler has it in spades. His earliest memories of remodeling are from the times he spent with his Dad fixing and updating his childhood home. Some of Tyler's first jobs were with construction crews 20+ years ago. He eventually started his own business, operating under his name as Tyler Kallenbach Construction. This is where he connected with his old friend Barry Roewe, Owner of TrueSon Exteriors | Interiors, Columbia MO. The two had known each other since junior high school.
"We had repetitive requests to have someone come and do an interior remodel at the same level of quality we did their exterior project". Barry explained to me. He recognized the need in the earlier years of TrueSon Exteriors, but at the time, Barry wasn't willing to make the leap to expand into Interiors. "I didn't think I had the right people in place or the capacity to do it early on, to be honest." When Tyler and Barry connected, everything changed. "I knew what type of personality he had. Tyler is a caring, hardworking and trustworthy employee and a great human being." Barry knew he could trust Tyler to develop the Interior side of TrueSon Exteriors by applying the same values to the Interior side of the business. "I thought it was a great fit! I knew his construction IQ was very high, and his dedication to his craftsmanship was outstanding." Putting Tyler in that role, Barry could trust him to represent the company appropriately, and it was ultimately what Barry needed in order to expand his business footprint into the Interior remodeling market.
When asked why he would leave his own business to work for someone else, Tyler told me "I wanted to work for him, I knew I wanted to work for him." Without hesitation. When I asked him to expound on this, he said, "When I had my own business, I ended up doing a couple of jobs with Barry and TrueSon. I knew I really liked the way Barry ran his business and I trusted the type of person Barry is." Tyler was excited about the opportunity to help Barry develop the Interior remodeling side of the business. Through a mutual respect, the two have built a star-studded team that are filling up the job board at TrueSon Exteriors | Interiors, Columbia MO with Whole-Remodels, New Additions and Remodels of all types. This Interior team of five boasts an 85+ years of combined experience. "We saw a need for a quality interior remodeling business in town and we wanted to fill that need." According to Tyler.
Notes from Our Interior Remodeling Expert, Tyler Kallenbach
At TrueSon Exteriors | Interiors, Columbia Missouri, we are acutely aware of the soaring price of lumber and certain materials. Tyler had a good reminder for someone seeking a smaller (in scale) type of project. "Bathroom and Kitchen remodels don't usually require a lot of lumber. I wouldn't discourage anyone from getting an estimate on their project in the current climate because on the Interior remodeling side of things, we can figure out some ways to potentially meet your vision and still be budget conscious." And being budget conscious is something that helps Tyler be so successful in his role at TrueSon. "A lot of companies come in with a really low bid just to secure the job, but they will increase the final cost exponentially with change orders that can catch a customer completely off guard." Tyler prides himself on coming in close on his bid estimates. "Change orders come up in our line of work, but I want to take the time to truly bid the job as close as possible to eliminate those unpleasant surprises."
Tyler suggests if you are considering an interior remodel to visit the Interior Remodeling & Additions page on our https://www.truesonexteriors.com/services/interior-remodeling-additions website. It helps when customers can become familiar with what the process looks like before that initial Phone Conversation.
Our Interior Remodeling Contractors are Here to Help!
A friend of mine is having a kitchen remodel done by TrueSon Exteriors | Interiors, Columbia MO. When asked how the process was going, she responded, "The remodeling process is a bit overwhelming. Working with Tyler has eased all our decisions. I am thankful for his ideas and honesty to keep us on budget while getting our must have updates to our kitchen. I can't wait to work with him again on our next remodeling project!" I think it's appropriate to close with this message from our Interior team.
Note from our Production Team: Whether completing a Whole-House Remodel, Kitchen or Bathroom Remodel and even Additions, we understand this might not be the last remodel project our customer does. This might not even be the last house they are in. We want to build a lasting relationship with our customers. We want you to be excited to contact us again for your next project!
Tyler is also a dedicated family man. Tyler and his wife, Amy, love packing up their travel trailer and camping or spending time at the lake with their two daughters, Lydia (15) and Maggie (12). Lydia loves Volleyball, Gymnastics and Fishing. Maggie is also into Gymnastics, Cheerleading, and animals, in general (including her hamster named "Pan" (not Pam) and a cat named "Taylor Swift" or "Tailor Swift". They never miss a sporting event for their girls (Volleyball, Gymnastics & Cheerleading) and they catch some of the biggest fish I've seen on my social media feed!
**Want to learn more about a specific topic with me? Let's have some fun and learn some things together along the way! Reach out to me at jeff@truesonexteriors.com.
Make sure to subscribe to the TrueSon Exteriors | Interiors Columbia, MO Blog before you leave!