Enhance Your Mid-Missouri Home with a Deck from TrueSon Exteriors
Whether it's summer or fall, a custom built deck will not only enhance your home's value but also make your home the hottest destination in the neighborhood. From outdoor barbecues to nights under the stars with the family, you can begin building a gathering place for your friends and family. From screened-in decks to multi-level decks, there are plenty of options for your mid-Missouri home. Download TrueSon Exteriors' homeowners guide to decks today to learn more about adding a deck to your Missouri home. Build the Deck of Your Dreams!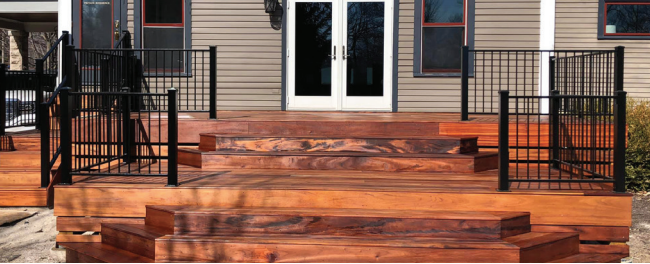 Choosing The Best Material for Your Home's Deck in Columbia, MO
Now that you've chosen the type of deck to best suit you and your family's needs, it is time to determine the type of material. While there are plenty of options to choose from, living in the midwest many homeowners tend to stick with wood or composite due to the various weather patterns.
Benefits of a composite deck in Missouri.
Known for low maintenance, long lifespans and overall value, composite decks can come in a variety of colors and textures. Most homeowners find it to be a worthy investment due to its resistance to fading, rotting, warping and splintering.
Benefits of a wood deck in Missouri.
While composite may be a popular choice for some homeowners, others appreciate an authentic wood deck. If you are interested in a wood deck, it is important to talk with your contractor about maintenance and choosing a wood that will not rot or attract bugs.
Learn more about the various accessories that can be included in your decks build when you download TrueSon Exteriors' Homeowners Guide to Decks. From outdoor kitchens to electronics, there are a variety of ways to make your new deck the ultimate hangout spot this summer!

Get a Free Estimate Today

Most Common Deck Repairs in Mid-Missouri
If your home is already outfitted with a deck, it may be time to think about repairs. Oftentimes weather and bugs can cause decks to deteriorate if not treated properly. Have an expert come out and inspect the wood, railings and nails of your deck to determine whether or not repairs or an upgraded deck is in your future.

Not sure how to determine the best deck contractor near you? No worries by downloading TrueSon Exterior's Homeowners Guide to Decks you can not only get a better understanding of adding a deck to your home, but also how to determine the best deck contractor for you.
3 Tips for Choosing a Deck Contractor
Consider the company's reputation.
Compare estimates of the project.
Determine the best timeline.
Hire TrueSon Exteriors For Your Decking Needs Today
Adding a deck to your home isn't always an easy decision, but with our experienced contractors at TrueSon Exteriors on your side you won't have to worry. Our team is founded on building relationships and trusting our work. That is why we offer free estimates and 5-year warranties on all projects. As Columbia, MO's premier roofing and construction company, we offer years of experience in building not only homes and decks but also relationships. Download our decking guide today or contact the TrueSon team today to learn more.

Call TrueSon Exteriors, your leading deck builder in Columbia, MO today!